.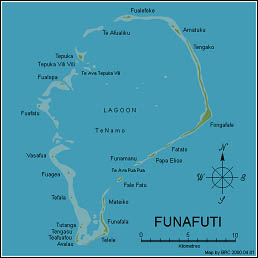 Within the framework of the 10-year Small is Beautiful (SIB) project, begun in 2004, and as an integral part of the SIB study on Renewable Energy in Tuvalu, the project presented here, as a parallel activity, concerns a complementary study and immediate RET's implementation of 2 biogas digesters, a small coconut biodiesel plant, a small windmill and PV systems. In parallel to this 30 months program, once the first biodigester and biodiesel plant are installed, a training program will be put together with teachers and technicians from TMTI and Tuvalu's other schools, after they got a training on biomass themselves.
Results will be communicated via various media in the hope that our local sustainability model can be reproduced or adapted to similar communities worldwide.
Amatuku (Fig.2) is a small (0,1km2) inhabited islet, 8.05 kilometers northwest from the center of Funafuti, Tuvalu's capital and most populous island. With approximately 100 residents calling it home -- students of the Tuvalu Maritime Training Institute (TMTI), the institute's teachers, staff and families.

Watch the 2005 Survey Trip in Amatuku Micro Model, on

Amatuku presents several advantages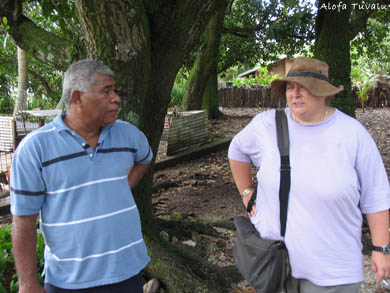 The islet is physically close (20 mn boat ride) to Funafuti, Tuvalu's most populous and most easily accessible supply center and administrative/communications hub.
TMTI , a training institute, provides a solid project base. While its discipline is stricter than in the rest of Tuvalu, it is that very discipline that significantly raises the chances that this first project will be a success, be accomplished more rapidly and be sustainable after project workers have left.
Among other assets, the islet already possesses significant and well-equipped work space and technical personnel, all of which are generally lacking in the rest of Tuvalu.
This lack has, in past efforts in Tuvalu and the South Pacific region, had a high cost in terms of the follow-up required to maintain both programs and equipment. Furthermore, lack of training for local technicians throughout the islands has been a major obstacle in Tuvalu's general development and in the on-going use of many of the environmentally effective technologies available today. As SIB expands into a nation-wide program, the Amatuku micro-model will thus become a central National Maintenance and Training Center supporting smaller maintenance facilities on the outer islands. This structure will allow Tuvalu to avoid repeating its past mistakes…and allow for efficient and economical system maintenance.
Amatuku is innovating and pioneering in at least 3 different aspects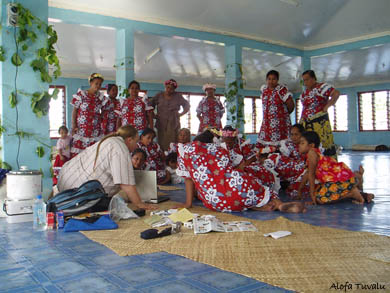 a) No biomass dependant RET's have been demonstrated in a coral atoll environment so this project is pioneering in its approach to sustainable energy production.
b) It will focus on training women as technicians. Since biogas will be used as domestic cooking fuel, women will be directly involved in training for use, maintenance and construction of biogas applications. As part of Alofa Tuvalu's 2005 activities in Tuvalu, women have been sensitized to biogas technology and have committed themselves to training, maintaining and utilizing this technology.
c) It's using Amatuku in Tuvalu, the symbolic most vulnerable nation, as an example to a global audience, highlighting the importance of combined renewable energies, in climate change issues and therefore contributing to Tuvalu future survival.
« And we are all Tuvalu » !
Scientific and Technical objectives/solutions
All possible options of locally available renewable energies will be studied for the Amatuku Pilot Project, both for « off grid » and « on grid » use.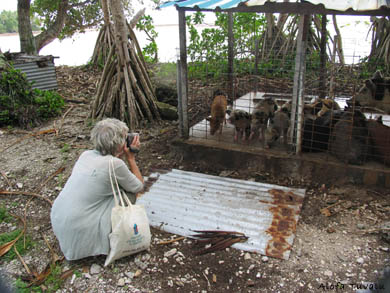 Biomass energy can be converted into fuels, electricity and processed heat. Biomass energy sources currently supply around 16 % of the world's primary energy making biomass the world's fourth largest energy source. In Tuvalu, as in many developing or industrialized countries, there is a large untapped biomass energy potential. Bioenergy programs are well suited to Tuvalu as they can be used at small and larger scales in a decentralized manner bringing substantial benefits both to rural and urban areas. Residues from forestry (re-planting, bush clearance), agricultural activities (pig rearing) and organic waste, as well as coconuts from existing productive trees are invaluable as an immediate and relatively cheap energy resource to provide the initial feedstock in the development of a larger bioenergy industry.
Biogas objective
Implementation of biogas production will be analyzed based on the use of 2 operational biogas plants, one running on the manure of a 35-pig pen for which sanitary housing will be built, and the other on the human waste produced by TMTI students. The output of the biodigesters not only will produce methane but the best compost as well, which is important in Tuvalu where arable land is on the decline both in quantity and quality. Due to the innovative aspect of the project and the specific conditions of an atoll island, we will solve technical challenges such as testing the best material for storing waste or gas or distributing the waste to the digesters.
Objectives :
· Provide domestic fuel for students and staff houses and kitchen
· Reduce animal slurry entering environment
Biodiesel objective
Several activities will happen simultaneously in the biodiesel field :
· Implement a small coconut oil production facility with the available stock,
· Clarification of the melting, solidifying temperature & energy content,
· Carry out a complementary study to finalize detailed analysis of potential coconut oil and biodiesel production,
· Replant 2 hectares (apprx 5 acres) of coconut trees (not included in provisional costs),
· Objective : The biodiesel produced can have a number of end uses such as transport fuel & electricity generation. On Amatuku, the objective is to supply 20% of fuel for Amatuku electricity generator and diesel for TMTI small boats, making it that much less dependent on oil and standard diesel in addition to reducing CO2 emissions.
Wind energy is now a mature technology providing machines with a wide range of capacities (from 10 kW to 5,000 kW for offshore wind farms) and energy in a wide number of countries. However, there is still little experience in the small Pacific islands area. The first unit (20 kW) has been built in the Suva SOPAC office by a French manufacturer, Vergnet, who specialized in wind mills for tropical conditions. The Fijian site has been chosen essentially for training conditions and the location has poor wind potential.
Our objectives concerning wind energy during the next 30 months are :
· To select a site on Amatuku and Fongafale where to install wind measure equipments. After one year measurement we'll have a better idea of the installation size and we'll be able to calculate the expected electricity production.
· To analyze data and select the adequate equipment.
· Lay foundation and install the windmill.
Another option would be to install one of the vertical blades WindsideTM windmill which can function starting 3 m/s. For this purpose, we are in contact with CAP-ENR, a French company commercializing the Turbine developed in Finland to meet the requirements of demanding professional use: long life span, efficiency, durability and minimum need of maintenance. Windside produces electricity at least 50 % more in a year than traditional propeller models. All year round. It has been used in extreme conditions from Greenland to the Sahara since 26 years.

SOLAR
In regard to solar electric, aside from the initial investment, still a bit high, and more rigorous maintenance required due to the highly saline environment, there's no doubt that photo-voltaics are viable in Tuvalu. This would be used for electricity, desalinisation and sanitary hot water production.
Our intention is to use new generation of technologies which have been used elsewhere and are adapted to this environment. The idea is not to make of Tuvalu a laboratory !


Wider societal

The "Amatuku Micro-model" is fulfilling the request from the Tuvaluan government to the French foreign affairs ministry about renewable energy. Its implementation in Tuvalu reinforces its participation to the PIGGAREP (Pacific Islands Green house Gas abatement Through Renewable Energy Project)'s goals to achieve CO2 emission reduction.
Our project provides fuel security and reduces Tuvalu's dependence on imported oil, reducing the amount of money leaving Tuvalu. Using bioenergy on Tuvalu's outer islands to provide a reliable electricity supply will also create local industries, increase income as manpower and improve quality of life thus reducing migration to Funafuti.
Tuvaluans will learn how to make, maintain and implement locally appropriate renewable energies. Additionally, the role of women, who play a central role in energy use, has largely been ignored. Women are at the centre of energy use and must play a full part in energy policy development and implementation. That is why they are completely integrated in our project.
This will increase sensitivity and awareness among the Outer Islands population for these new methods of energy production, waste and other issues included in the project.
In 2 years, 200 TMTI students, 100 women will be trained in biogas and biodiesel operations and maintenance. 300 Tuvaluans (men and women) trained in digester operations and maintenance. 50 people involved in construction and training.
As a feasability test for SIB's national implementation, Amatuku will become a de-facto training center for the rest of Tuvalu
Ongoing communications about the Amatuku pilot raises the likelihood of it becoming an example which can be reproduced in other places beyond Tuvalu, accelerating one of SIB's primary goals of « spreading the word » that solutions to a number of the world's environmental problems exist and are DOABLE.
Economy and environment
Our project will reinforce competitiveness of Tuvalu toward other pacific islands such as Fiji, by creating a central National Maintenance and Training Center on renewable energy on AMATUKU, the first one in the Pacific area. At a national scale, using renewable energies will induce progress on energy efficiency and decrease the weight of the country imports of oil in electricity generation, as well as :
· Reduce the amount of pollution & GHG's entering the atmosphere firstly by replacing polluting fossil fuels & secondly as they are zero net carbon emitters when used sustainably.
· Strengthen Tuvalu's case in climate change negotiations.
· Protect Tuvalu's energy supply from the whims of the international market.
· Using biogas digestion can help reduce waste and pollution, run-off & contamination from organic waste, including human & animal sewage, therefore preventing land, sea & groundwater contamination.
· The slurry produced from the digestion process can be used to improve soil quality & fertility, or can replace soil in areas where soil is heavily contaminated, such as salt contaminated soil from sea water flooding.
· The re-introduction of copra production for biodiesel will have many multiplier effects : provide income to outer islands; reduce oil imports; increase biodiversity by replacing old coconut trees & re-foresting degraded areas; provide timber as old trees are cut & replaced; provide a carbon neutral energy source; provide much needed jobs in rural areas.
· At current population & food import levels there does not appear to be any competition between land use for food and fuel. In fact, an integrated bioenergy & agricultural extension plan would increase the amount of food produced in Tuvalu whilst decreasing the amount of waste since compost would be produced as a consequence of waste processing. Where land & soil is scarce, compost can be used to extend the "family gardens" project , and help decrease as well the amount of household income spent of food.
A replicable "Model"
The Amatuku micro-model is designed to continue. It is the heart of the project itself. The only Amatuku islet residents are the maritime training school students and staff; the set up is the key of success for continuous training. We propose to provide equipment (2 biodigesters, wind measurement tools and a small windmill, a biodiesel plant) and to train a big number of inhabitants to use hands on and maintain the equipment which will be installed in the future. Alofa Tuvalu's scientists, project managers, implementation partners and local coordinators will follow up on site all stages of Amatuku micro model and beyond. Our aim is to reproduce the model in other islands of Tuvalu, then in the Pacific region as well as in the world via international communication.
Operating on the basis that Tuvalu is a microcosm of the threat that we all face in the near or long-term, two primary objectives need to be addressed at the global level :
Creating a chain-reaction by initiating similar programs to follow the Tuvalu model. This will be done first through regular media communication about what is actually happening in Tuvalu, then by emulating the methods used on Tuvalu. The work done on Tuvalu, and experience gained, will be used in either direct reproduction in ecologically similar regions, such as small insular states, or by adapting some of the program's innovative ideas to other types of environments, stimulating actions in different regions and communities.
Raising awareness, on a large scale, about the threat Tuvalu faces and about our individual impact on global warming in order to foster increased individual action.
Accomplishing such a model of « environmental sanity » and greater self-sufficiency would not only create the most positive kind of example to the world, it would also solve some of Tuvalu's most pressing waste and energy problems.
Provisionnal cost and financing
Everything being linked, it's difficult not to say impossible to explore RET's on Amatuku, without taking into consideration the other fields of sustainable development. Therefore, we have studied RET's costs but also, as an example, basic bins for selective waste collection are included too. Replanting and water drainage are not included as they both depends on specific study results.
Travel costs are very expensive. Air Fiji's Suva/Tuvalu are the world most costly flights considering the distances.
The RET's in the Tuvalu ongoing study is being financed mainly by ADEME, FONDS PACIFIQUE and Alofa Tuvalu. The 3 of them have verbally accepted to increase their participation for the Amatuku micro-model. Other partners have today agreed to help such as the French Embassy in Fiji and the French Union of Engineers. Funding requests have also been sent to institutions such as : Rolex Award, World Bank, Ile de France Regional Council, Ensemble Foundation or the Piggarep.

Financial Transparency:
Alofa Tuvalu is in the process of registering with TANGO (Tuvalu Association of Non-Governmental Organizations). Alofa Tuvalu is already a registered NGO in France. The French registration process involves the production of annual audited accounts which are made publicly available and published on the association's website. (www.alofatuvalu.tv)
- Minister of Energy and Transport letter
- Alofa Tuvalu and TMTI contract
After the Study and Training Center's presentation to Cabinet, the Governor General in his parliament opening speech expressed the government's will to see this demonstration and training center happen, as well as its determination and commitment to RET's.



The main recommendation of the Alofa Tuvalu Renewable Energy Study 2005-2006 funded by the ADEME (French Energy Management Agency), and Pacific Fund, the Tuvalu National Renewable Energy Demonstration and Training Centre, an effective practical 1st step on the way to a national program, highlights the importance of combined renewable energies in mitigating climate change and other environmental issues. The centre provides an ongoing "showroom" facility where Tuvaluan learn hands on how to make, maintain and implement locally appropriate renewable energies in order to spread their use throughout Tuvalu and reduce the nation's dependency on fossil fuel. The Amatuku Micro Model has begun implementation with the support of the ADEME PIGGAREP and SOPAC, in partnership with the Government of Tuvalu and TMTI (Tuvalu Maritime Training Institute)


Implementation of biogas production started early 2007 after several surveys, community and staff meetings. The first biogas plant (an 8m3 digester) running from the manure of 40-50 pigs housed in designed for purpose sanitary pig housing, has been built from May to June 2007. During eight weeks : 4 people have been fully trained in the construction of biogas digesters (3 from Tuvalu and 1 from Solomon Islands). 4 workshops on construction, operation & maintenance have been held with a total number of 198 attendees, of which around 60% were women and 10% selected TMTI students. This was the first digester to be built on a coral atoll and specific technical issues had to be dealt with and lessons learnt. The residents decided to feed a communal kitchen with the gas produced.

The second plant (a 6m3 digester) will be fuelled by human waste produced by TMTI students (connected to the toilet facilities in the ablution block).
The methane produced will be used as cooking fuel in the TMTI students' kitchen.
In addition, the compost by-product (important in Tuvalu where arable land is on the decline both in quantity and quality due to sea water contamination), is used to grow vegetables for consumption by TMTI staff & students. All TMTI students will be trained in horticulture and will promote these activities when they return to their home islands.
200 TMTI students, 200 women will be trained in biogas and biodiesel operations and maintenance. 500 Tuvaluan men and women will be trained in digester operations and maintenance. 50 people will be involved in construction and training, and 40 people trained as promoters for digester processes, animal husbandry and horticultural production.
2009 : Polishing up and fixing past biodigester issues from too much water to not enough. The operating rules not having been thoroughly folllowed by the engineer in charge lead Alofa Tuvalu to change officer,
Sikeli Raisuqe, Alofa Tuvalu's biogas specialist made the trip in October to inspect the unit and evaluate its functionning. Digester was emptied with a water pump provided by Alofa Tuvalu. The unit is now back to normal.
A Biogas first reproduction project, an Alofa Tuvalu local office's initiative and Tango with Undp cofunding was launched in 2009, to be implemented in 2010.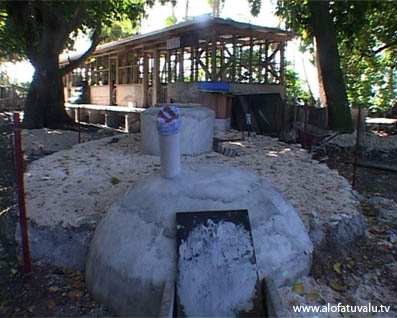 In 2008, in a tense international context relating to biofuels, Gilles Vaitilingom (CIRAD/Alofa Tuvalu) demonstrated the production of 3 energies from the coconut tree, "the Tree of Life" : bioethanol, biodiesel and gas to feed the grid (from gasification of husks and shells).

With in situ test productions of copra biodiesel and todi ethanol, in front of 200 people, the merits of local production for local transportation were also demonstrated.

The unexpected influx of participants, the number of relevant questions and requests for reproductions raised by participants, revealed the interest of the Tuvaluan people and their willingness to act. In parallel, tests conducted at CIRAD (Montpellier, France) on the likely biodiesel production unit allow us to consider sustainable and innovative onsite implementations.
So far, there are relatively few coconut oil fuel projects in the Pacific region. The majority of these diesel substitute replacement projects use straight coconut oil and require specifically modified engines. To avoid such costly engine modifications, Alofa Tuvalu has set a target to produce biodiesel with a higher fuel specification than straight vegetable oil which can be used without modifying the engines currently used.

The 2008 small scale on-site biodiesel demonstration produced a fuel that was composed of 80% ester. It was used in an unmodified diesel engine using a blend of 10% diesel. A unit with an oil heater and stirrer could produce 90% ester which can be used blended with diesel (80% + 20% diesel ester) to keep in line with international standards for diesel fuel. A clever use would be to substitute ¾ of this ester diesel with bicarburation. This practice is applicable to any size diesel engine, and will suit the inter-island vessels.

At least 95% ester can be obtained with the unit successfully tested at CIRAD (Research Unit Biomass-Energy). This type of unit, which produces 50 l / d, is well adapted to Amatuku diesel consumption and is a good training tool.

Training in biodiesel production will be of great benefit to the Pacific region. Since we have been talking about the project, Alofa Tuvalu has been approached by several regional organizations. After last spring's pilot production, requests have notably increased including from Tuamotu and Wallis.
Developing ethylic esterification, with ethanol from Todi rather than imported methanol for 10% to 20% of the mixture, could be a developed in partnership with the local branch of the University of the South Pacific laboratory.
The production of these technologies from the 'tree of life' needs to be done in a way which will ensure sustainable use of resources without competing with food needs. The biodiesel and ethanol feasibility studies will analyze all parameters. For copra biodiesel, the difficulty of the work must be taken into account. The production of copra biodiesel will however, provide employment and income opportunities. The reintroduction of a small local industry for copra will have multiplier effects in Tuvalu where production could reach 700 000 liters per year and gradually replace 50% of the diesel used in the 2 inter-island boats whilst providing income for some 700 subsistence farmers and families.

Since 2006, agreements have been in place with TMTI and the Tuvalu Copra Trading Corporation (TCTC - a Government of Tuvalu initiative). In addition, meetings with community and interest groups (women's groups, farmers, other NGO's, church groups, Government Departments – including Tuvalu Electricity Corporation (TEC), etc – totalling over 800 people in attendance have demonstrated community support and commitment to this project.
2009 implementations and trainings






The 2005/2006 Alofa Tuvalu energy/waste audit outlined that landfills are composed of 80% organic waste valuable as compost or gas.
In 2008, more than 50 people were introduced to gasification of husks and shells process for electricity production. The gasifier used for this first training course has been sized and designed for non burnt biomass and was constructed locally from materials available on Amatuku by 6 TMTI engineers and teachers. 12 students were trained and 40 people attended the workshops.
The concrete used was not refractory so its life is limited. With refractory concrete we can expect a life of a year before having to cast a new furnace. To use the gas produced to fuel an engine, a gas cooling and filtration unit is required to eliminate ash and dust.
A unit gasifier and filters can run a generator on a dual-fuel mode, substituting around 75-80% of diesel use. To make the gasifier a model for other islands and their generators, it is reasonable to adopt a proven model of gas generator. Both the gasifyer and generator will be imported and filtration units will be constructed on site. A possible solution would be to manufacture the generator in Fiji where all the metalwork skills exist.
In small Pacific states, the coconut tree has great renewable potential in shells and husks of about 32 kg per tree per year. The equivalent of 7.5 liters of diesel used in generators. With 10 kg of coconut shells 25 m3 of gas can be produced, equivalent to 2.75 kg of liquid butane.


2009:
- Set up of the smallest Biodiesel & Gasification Unit found on the market (Fuelpod & Gek). The objectives were to create a biodiesel able to be used at 100% in the gerenators without having to modify the engines.
Units arrived after 3 months shipping. These small units are able to provide the whole of the electricity required in each of Tuvalu outer islands. The biodiesel unit can transform 60 liters of oil into biodiesel per 8 hours. The gasifier unit can reduce up to 70% of the diesel required.
- Training of 6 engineers and teachers on the 2 technologies was achieved.
- 2 Public workshops gathered more than 200 people including 2 ministers and many GoT, communities, churches representatives. TMTI engineers demonstrated the quality of the biodiesel and gas produced.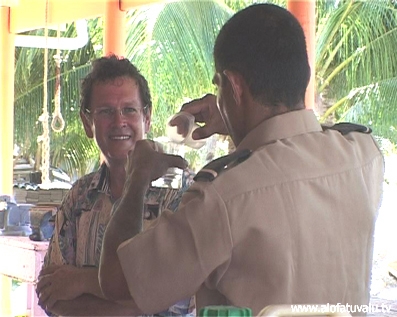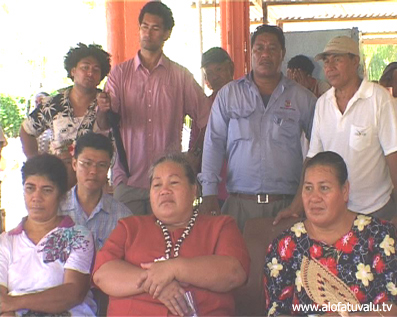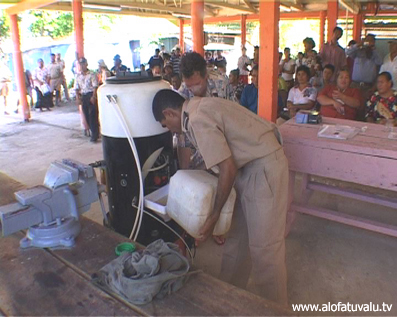 Since the implementation/training and after the first workshop, the TMTI team was able to successfully demonstrate, without the overseas team and without their chief engineer and main engineer both on duty on ships. Alofa Tuvalu is exchanging with the units suppliers outlining specific needs and requesting spare parts and updates to allow a sustainable use.
2010 :
- Alofa Tuvalu's biomass specialists will return when TMTI chief engineer is back to sustainably connect, with the team, the units to the grid. Consultations meetings will be held with Leota Sio and his teaching staff to include these activities in the curriculum.
- Restitution of the todi ethanol study and replanting recommandations.
Biodiesel and todi ethanol FS (resource availabilty, production, replanting, distribution, logistics, economic production/use of todi ethanol in small fishing boats on all islands).
News & daily radio programs on national media,
Dissemination on biodiesel and gasification (local and international)
The last 2 years demonstrating, training and communication campaigns about biodiesel/bioethanol, gasification production already lead to a few reproduction requests in Tuvalu and worldwide.


« 100 things one can do to help Tuvalu...And YOU… » These short programs are part of Alofa Tuvalu's main project « Small is Beautiful » made possible by the French Energy Agency, ADEME, PIGGAREP, The Taiwanese Embassy in Funafuti and many organisations and individuals all over the world, and obviously in Tuvalu..
Since 2007 this three-month daily series aims at helping Tuvaluans be more pro active for their future by sharing experiences. They are launched each year during International Environment Day (or month !) celebrated in many countries. The Alofa Tuvalu radio program is made with the people for the people. Tuvaluans share their experiences, what they are doing to » kick the habit » of consuming fuel from reducing their electricity or gas expenses, to organic gardening with compost… The series will go on in 2009.
Reducing our emissions has a positive impact on our atmosphere, it also helps save money and reduce oil imports.