Tuesday 18 September, 2012 - "Kate and William visit" (part2) by John H., Alofa Tuvalu counterpart in Funafuti and APNL Manager
I forgot to mention that the mini-maneaba (the one on the truck) wasn't used because of the rain. The Couple are travelling in a regular vehicle instead (there were contingency plans for wet weather). Charles the Architect who lives next door to me is lamenting that Public Works Department put such a lot of time and effort into making the conveyance and now it won't be used at all. Never mind, some other use will be found.
The visit to Nauti Primary School is taking much longer than I expected.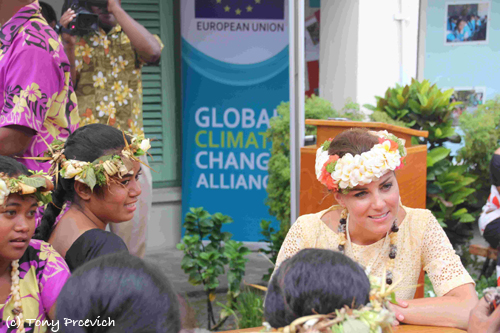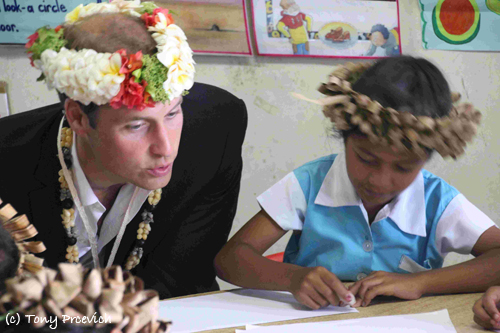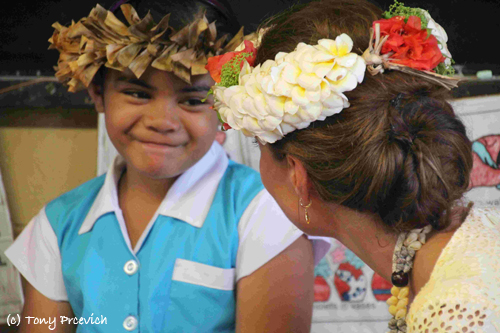 I'm a bit tired of standing by the roadside waiting so I have come indoors to make a cup of tea. There's a big group of people down the road near the Queen's coconut tree but I think I'll stay at my place (200 metres from the tree) so I can wave my union flag in front of our office – not that a union flag has any connection with our office of course but I don't think it would be considered good form if I waved a German flag. I might get away with waving an Australian flag but the office doesn't have any connection with Australia either, other than through me.
So I boiled my water and then found I hadn't emptied the tea leaves from my previous pot of tea. I went outside to dump the tea leaves in the garden as I always do (environmentally sound practice I believe) but just at that moment I saw William and Kate's entourage approaching. There was no time to put down the teapot so I just waved it at the Royal Couple. They probably thought I was inviting them for a cup of tea! I would have happily done so of course but they both smiled at me and continued on their way. I have entertained three ambassadors (simultaneously)(British, Australian and New Zealand) at my house and three or four others at odd times (Canadian, Belgian, Taiwanese) but never a prince and a duchess. Well, maybe next time they stop by.
Fortunately the weather has improved and they were able to change over to the mini-maneaba. So it got its use after all. Our road is narrow and I was standing right on its edge and had a good glimpse of the Royal Couple. They looked as good in real life as one sees them on TV, William looking gracious and regal, Kate looking radiant and relaxed. It will take time before she gets that 'star quality' that Princess Diana had but Kate is getting there.
Willy and Seinati (the PM and his wife) were following in their car, both beaming smiles from ear to ear, and rightly so. Now the Couple are at the hotel for their coconut drink and to watch the canoe racing. During the day the wind has increased, as it often does on rainy days. The lagoon is quite rough so it will be interesting to see how they go. For those reading who aren't familiar with Funafuti Lagoon it's no little pond, it's about 15 kilometres wide and about twice that in length. When it's rough on the lagoon it isn't much different to being rough on the ocean.
I forgot to look at the beach while the tide was low this morning. From what I can see of it now the sand removed yesterday has not made any significant difference. After today's wind and waves one probably won't even be able to see where the sand was taken from.
Evidently today's programme had to be adjusted to fit with the weather. How different it is this year compared to same time last year. Now we have too much rain; last year we were suffering a drought and Willy had to declare a state of emergency so that New Zealand Red Cross and New Zealand Military could start airlifting desalination plants in C-130 cargo transports.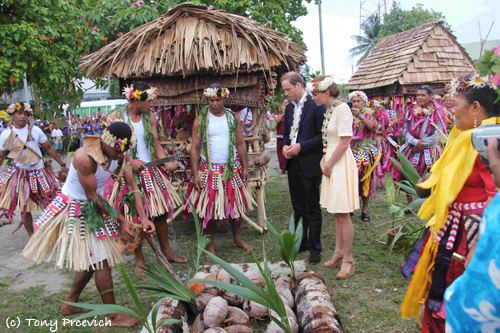 The canoe racing is over and one of the canoes is being taken out of the water on our office ramp. Daylight will start to fade soon and it will be dark in half an hour. The Couple aren't going to have much of a rest after they get to their accommodation, and they still have to visit the 'Tuvalu Village' beforehand.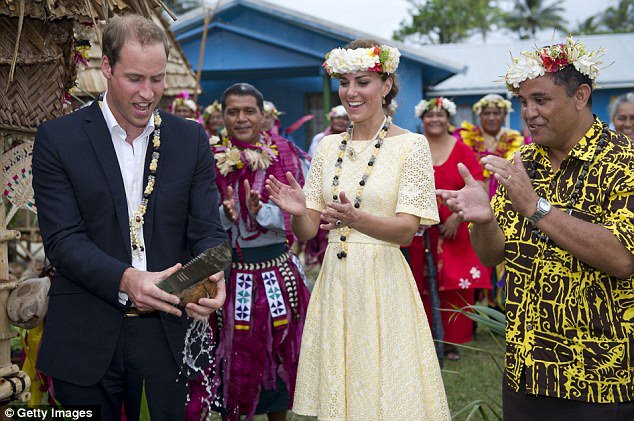 I think after they've been feasted and toasted tonight there will be a fatele (dancing/singing). I may go and watch that if there's no rain but it depends on my email load. Having been out of the office all afternoon I can see there are 19 messages waiting now, and likely more during the evening.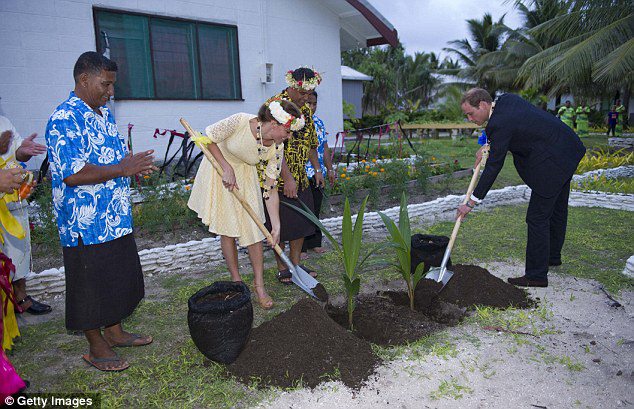 So that's pretty much the end of my narrative except to summarize. It has been a unique day, long and carefully planned and well conducted. The weather posed some problems but they were overcome. I'm sure it will have been a memorable visit for the Royal Couple, and it certainly has been for all of us at Funafuti.
When I was a schoolboy and aspiring to become a seafarer my imagination was fired by a book I read ("A Pattern of Islands") that concerned the experiences of a British colonial administrator in this area before the First World War. I never seriously thought I would ever visit Funafuti, still less that I would live here, and certainly not that I would be here for a royal visit – only the third such visit ever.
So as the sun sinks below the horizon (though blocked by rainclouds) I will say farewell from fair Funafuti.
Best regards, John

18 / 09 / 12 - 09 : 14
Précédent
Suivant